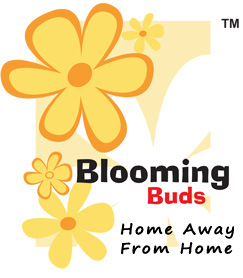 DAYCARE

PRE - SCHOOL

ACTIVITY CLUB

A loving, secure and hygienic sphere.
A unique blend of teachers and assistants who are warm and caring.
We lay special emphasis on good habits and etiquettes.
A place for well thought - out play for children. studying children, which are the heart of assessment, help teachers discern why children do what they do, what makes them smile and laugh, and what tasks are difficult for them.
Activity Club for Kids includes
UCMAS Abacus, Drishti Foundation
DMIT, Danceology, Study Circle,
Helen O' Grady, Fun n' Learn.
Blooming Buds is for .... Parents and their precious Children !!